13-Year Afghan War - Highlights of America's Longest War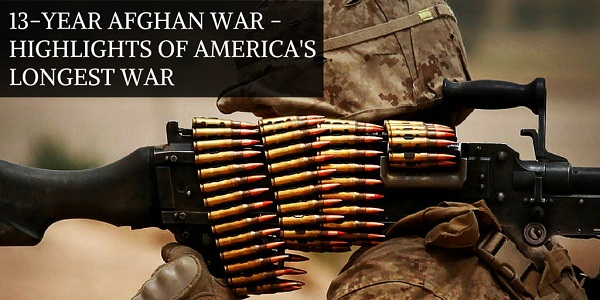 After the September 11 attacks, the former U.S. President George W. Bush launched the "global war on terrorism", and led the invasion of Afghanistan, which was justified under the doctrine of collective security. Then U.S. President Bush stated that, "Our war on terror begins with al Qaeda, but it does not end there. It will not end until every terrorist group of global reach has been found, stopped and defeated."[1]

Although, during last 13 years the United States did succeed to avert any major terror attacks inside its territory but anti-Western in particular anti-American sentiments continued to spread rapidly in Asian and African continents. Despite the fact that dozens of top Al Qaeda leaders were killed or captured during the decade-old war on terror, the US failed to bring lasting peace and security in the region. The 13-war also resulted in the deaths of thousands of U.S. and allied soldiers with enormous cost of trillions of dollars.[2]


Highlights of War:
— War lasted: 4,831 days.
— Total Casualties: 3,485 killed.[3]
— U.S. Casualties: 2,216 killed, 19,950 wounded.[4]
— At the peak of war on terror, more than 130,000 troops from 50 nations were stationed across Afghanistan.
— The total cost of wars in Iraq, Afghanistan and Pakistan: $3.2 to 4 trillion, Deaths: 330,000[5]
— War Cost in Afghanistan/Pakistan: $1.65 trillion (not including future war costs of veterans care).[6]
— 2014 saw the largest increase in civilian casualties: 3,188 killed, 6,429 wounded.
— Individual served in the war: 823,136

Direct War Deaths in Afghanistan:

US Military: 2,313

US Contractors: 3,248

Allied Military and Police: 13,017

Other Allied Troops: 1,114

Civilians: 21,000 - 23,000

Opposition Forces: 15,000 - 25,000

Journalists and Media Workers: 28

Humanitarian/NGO workers: 298

TOTAL (rounded to nearest 1,000): 56,000 - 68,000.

[7]
Success:
The U.S. has to some extent dismantled the network of terrorism in the region.
The U.S. killed Al-Qaeda leader Osama Bin Laden, and captured several top leaders of Taliban and other terrorist organization.
The U.S. also successfully established its military bases and increased its sphere of influence in the region, which would benefit the U.S. interest in the long term.
47% Americans consider the killing of Osama as a major victory for America, 40% take it as a minor victory, and 11% consider it as not a victory at all.

[8]
Failures:
The U.S. failed to achieve its stated goals and eliminate the terrorism threat, as there has been a significant rise in terrorist attacks.

[9]
The world is less secured from terrorism and more vulnerable to terrorist attack than it was in pre-9/11 period.
Use of excessive force compelled the Taliban and Al Qaeda militants to hit 'soft targets' and slip to other areas such as Arab and African states such as Syria, Iraq, Libya and Yemen. Terrorist and militants crossed over to other regions of the world.
Drone strikes and aerial bombardments increased the public sympathy and support for the Al-Qaeda and Taliban militants, who are now increasingly considered by many Afghans, as the righteous soldiers fighting against the foreign invaders.
War in Afghanistan by Percentage:
After 9/11 and U.S.-led war, terrorist attacks have increased by 195%, incidents by 464% and injuries by 224%.

[10]

All in all, the number of terrorist incidents has increased by fourfold.
63% of Afghans believe that reconciliation efforts between the government and armed opposition groups can stabilize their country, while 32% do not agree with the statement that there should be any settlement with the militants.
55% of Americans believe that the U.S. forces have been somewhat successful against the Al-Qaeda and Taliban in Afghan war. Only 7% think they have been very successful, 22% think that the war has been somewhat unsuccessful, while 13% consider it to be very unsuccessful. (NBC News/Wall Street Journal Poll)
66% of the U.S. population believes that the U.S. war in Afghanistan was not worth fighting and 30% of them believe that this war was worth fighting. (ABC News/Washington Post)
30% of Americans believe that it is not likely at all that Afghanistan will become stable after the U.S. troops leave the country, 38% of them think it is not very likely, 24% think it is somewhat likely, while only 5% believe that it is very likely that Afghanistan will be stable country after the U.S. withdrawal.
Most Americans, about 55% are pessimist about the success of Afghan war, while 35% are optimistic about the results of war and believe that the U.S. will be successful in eliminating the threat from terrorists operating from Afghanistan.
After 13 years of struggle, 65% of Americans believe that after the U.S. withdrawal from Afghanistan, the threat of terrorism against the U.S. will remain the same. About 26% of Americans believe that the threat of terrorism will continue to increase. Unfortunately only 6% of the people are positive that the threat of terrorism against the U.S. will decrease after U.S. withdraws its troops from Afghanistan.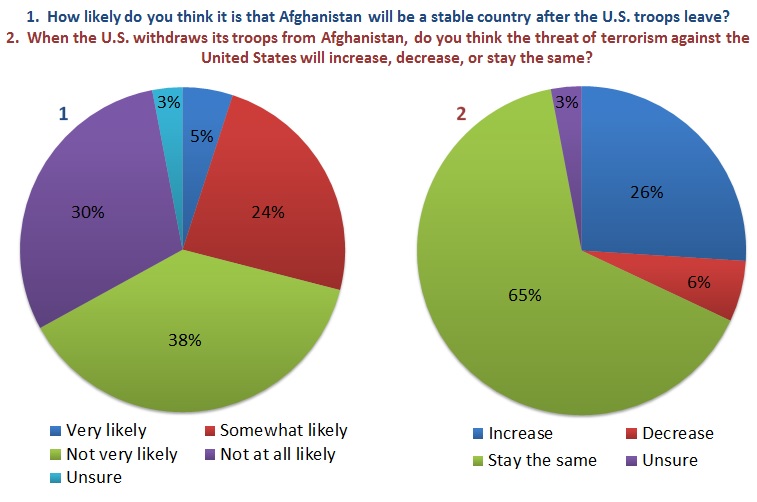 War on Terror in Afghanistan Timeline:
September 11, 2001: Series of attacks in New York City and Washington D.C., United States was led by terrorist organization Al-Qaeda. The attacks killed 2,996 people and caused at least $10 billion in property and infrastructure damage.

[11]
September 14, 2001: The U.S. Congress passed the Authorization for use of Military Force against Terrorists.
October 7, 2001: The War in Afghanistan began with Operation Enduring Freedom, as U.S. and British forces initiated airstrikes in Kabul, Kandahar and Jalalabad, mainly targeting Taliban and al-Qaeda. The U.S. later invaded Afghanistan with ground troops of the Special Forces.
October 16, 2001: Operation Active Endeavour, a naval operation of NATO started in response to the 9/11 attacks.
November 13, 2001: Taliban had withdrawn from both Kabul and Jalalabad.
December, 2001: Taliban gave up their last stronghold in Kandahar.
December, 2001: The UN authorized an international force – the International Security Assistance Force (ISAF) – with a mission to help the Afghans maintain security in Kabul and surrounding areas.
December 22, 2001: Hamid Karzai sworn in as head of an interim power-sharing government.
March 1–18, 2002: 1,700 airlifted U.S. troops and 1,000 pro-government Afghan soldiers fought 300 to 1,000 al-Qaeda and Taliban fighters to obtain control of the valley.
August 9, 2003: NATO assumes responsibility for the ISAF mission.
October 13, 2003: The Security Council voted unanimously to expand the ISAF mission beyond Kabul in Resolution 1510.
October 9, 2004: Hamid Karzai won the election with 55.4% of the votes, and became the first democratically elected President of Afghanistan.
March 1, 2006: U.S. President George W. Bush makes his first visit to Afghanistan, and meets with President Hamid Karzai.
May 11, 2007: The Taliban's top military commander, Mullah Dadullah, is killed in a U.S.-led coalition operation.
August 2007: Obama promised, "When I am president, we will wage the war that has to be won, with a comprehensive strategy with five elements," the first of which was "getting out of Iraq and onto the right battlefield in Afghanistan and Pakistan."

[12]
July 19, 2008: Democratic presidential nominee Barack Obama makes his first visit to Afghanistan.
December 15, 2008: President Bush makes a surprise visit to Afghanistan. It is his second and last visit as president.
October 31, 2009: A runoff election is canceled when Foreign Minister Abdullah Abdullah drops out, leaving Karzai as the only candidate and winner by default.
November 19, 2009: Hamid Karzai was declared President of Afghanistan for another 5 year term.
December 1, 2009: President Obama announces the deployment in 2010 of 30,000 additional U.S. troops. This new deployment will bring the U.S. total to almost 100,000 troops, in addition to 40,000 NATO troops.
January 2010: Representatives from over 60 nations meet in London for the International Conference on Afghanistan, pledging support the development of the Afghan National Security Forces.
March 28, 2010: President Obama makes his first visit to Afghanistan as president.
May 2, 2011: The founder of Al-Qaeda, Osama bin Laden was killed in Pakistan by U.S. Navy SEALs, during the Operation Neptune Spear.
June 22, 2011: President Obama announces that all of the 33,000 additional U.S. forces deployed to Afghanistan in December 2009 will return home within the next 15 months. He also announces that U.S. combat operations in Afghanistan will end by 2014.
August 6, 2011: Insurgents shoot down a helicopter in central Afghanistan, killing 30 U.S. coalition members, seven Afghan troops and a civilian interpreter.
August 2011: August becomes the deadliest month for U.S. forces in Afghanistan since the conflict began, with 71 U.S. casualties.
February 21, 2012: Violent protests break out in Afghanistan over reports that Qurans were burned at a U.S. military base.
April 8, 2012: The U.S. and Afghanistan sign a landmark deal that gives Afghan authorities an effective veto over special operations night raids. The deal prevents NATO's ISAF from conducting raids without the permission of Afghan officials.
June 18, 2013: Afghan National Security Forces formally take over combat operations.
August 5, 2014: A gunman believed to have been an Afghan soldier opened fire on a number of international soldiers, killing a U.S. general and wounding about 15 officers and soldiers, including a German brigadier general and several U.S. soldiers, at a training academy near Kabul.
September 21, 2014: Former Afghan Minister of Finance Ashraf Ghani Ahmadzai elected as the President of Afghanistan.
October 26, 2014: The United Kingdom formally ends its combat mission in Afghanistan with a flag lowering ceremony in Helmand province.
December 28, 2014: After thirteen years, the U.S. and NATO end their combat mission with Afghanistan. The commander of ISAF officially marks the end of coalition combat in Afghanistan by rolling up the ISAF flag.

[13]
December 30, 2014: Following the end of 13-year Afghan war, Taliban fighters claimed victory against U.S. and its allies in the war.

[14]
January 1, 2015: NATO's International Security Assistance Force combat mission replaced by a training and support "Resolute Support" mission.
The Future of Afghanistan:
U.S. President Obama said in a statement to mark the end of the mission, "Afghanistan remains a dangerous place."
Some 13,000 troops, among them 10,800 Americans, will stay in Afghanistan in 2015 to play a support role.
Many Afghans fear that the withdrawal of all NATO combat troops will contribute to a deteriorating security situation.
President Ashraf Ghani said he is open to peace talks, but the Taliban said it would "continue its Jihad and struggle as long as a single foreigner remains in Afghanistan in a military uniform".

[15]
---
Sources:
[1] The White House, President George W. Bush, "Address to a Joint Session of Congress and the American People", (September 20, 2001), at: http://georgewbush-whitehouse.archives.gov/news/releases/2001/09/20010920-8.html
[2] Raphael Perl, "Combating Terrorism: The Challenge of Measuring Effectiveness", Congressional Research Service, (March 12, 2007).
[3] "Coalition Military Fatalities By Year", iCasualties, at: http://icasualties.org/OEF/Index.aspx
[4] Luis Martinez, "US Military in Afghanistan by the Numbers: 2,184 Dead, 19,600 Wounded", ABC News, at: http://abcnews.go.com/blogs/politics/2014/05/u-s-military-in-afghanistan-by-the-numbers-2184-dead-19600-wounded/
[5] Catherine Lutz, and Neta Crawford, "Over 330,000 Killed by Violence, $4 Trillion Spent and Obligated", the Costs of War Project - Brown University's Watson Institute for International Studies, (2013), at: http://www.costsofwar.org/
[6] "Summary Costs of War Iraq, Afghanistan, and Pakistan FY2001‐2014, Billions of Current Dollars", the Costs of War Project - Brown University's Watson Institute for International Studies, (2014), at: http://www.costsofwar.org/sites/default/files/Summary%20Costs%20of%20War%20NC%20JUNE%2026%202014.pdf
[7] "Human Costs of War", the Costs of War Project - Brown University's Watson Institute for International Studies, (2014), at: http://www.costsofwar.org/sites/default/files/
[8] CBS News/New York Times Poll, (May 4, 2011), at: http://www.cbsnews.com/htdocs/pdf/110504_news_poll.pdf (The poll was conducted on May 2nd and 3rd 2011, by telephone among 532 American adults, interviewed by CBS News from April 28 to May 1, 2011. The margin of error in entire sample could be +/- 4 %.)
[9] Global Terrorism Data, "Background Report: 9/11, Ten Years Later", START Background Report (2011). at: www.start.umd.edu/start/announcements/BackgroundReport_10YearsSince9_11.pdf
[10] United States of America The National Counterterrorism Center Report on Terrorism (2011). Accessed at: https://www.fas.org/irp/threat/nctc2011.pdf‎
[11] How much did the September 11 terrorist attack cost America?, The Institute for the Analysis of Global Security, at: http://www.iags.org/costof911.html
[12] "America To Negotiate With Taliban As It Plots Return", Investor's Business Daily, at: http://news.investors.com/ibd-editorials/061813-660475-american-diplomats-tricked-by-afghan-savages.htm
[13] "US, NATO mark end of Afghan combat mission after 13 years", IRIA, December 29, 2014, at: http://ir-ia.com/news/us-nato-mark-end-of-afghan-combat-mission-after-13-years/
[14] "Taliban claims victory against US and its allies in Afghan War", IRIA, December 30, 2014, at: http://ir-ia.com/news/taliban-claims-victory-against-us-and-its-allies-in-afghan-war/
[15] "Taliban declare 'defeat' of NATO", Deutsche Welle, December 29, 2014, at: http://www.dw.de/taliban-declare-defeat-of-nato/a-18159594