Australia's contribution in coalition fight against ISIS in Syria and Iraq
— Situational Report 2016
By Sana Jamal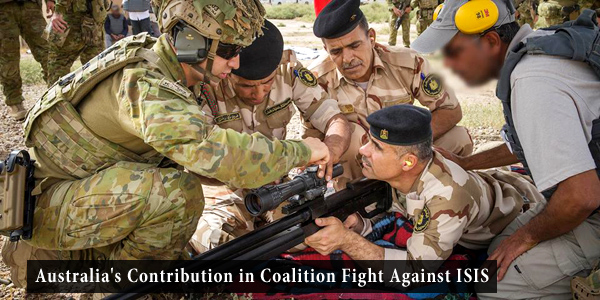 As the world is becoming increasingly volatile with threat of terrorism looming in all corners, it is the mutual rage against extremism that is uniting all nations. This is precisely the reason that Australia, an island continent about 11,000 kilometers away from the scene of present conflict in Iraq and Syria, is one of largest contributors in fight against the terror group ISIS (also known as Daesh, ISIL or Islamic State).

To combat ISIS, over 60 countries formed a coalition and launched military campaign named as "Inherent Resolve" in Iraq and Syria. Military contribution, however, is just one facet of the broader strategy which includes measures to stop foreign financing, restrict the flow of foreign fighters, provide humanitarian assistance to Iraq and Syria and strategic communications to counter radical ideology.

"The single most important objective in the battle against the violent extremism as practised by Daesh, or ISIL," according to Australian Prime Minister Malcolm Turnbull "is to defeat them in the field in Syria and Iraq."

For this reason, Australia is "making a very substantial effort" in the fight against Daesh by providing an extensive military contribution and constantly engaging with allies. "Australia is making a very large contribution there, relative to others, given the size of our economy and our proximity to the conflict", said Australian PM Malcolm Turnbull.

Australian PM Turnbull further asserted his country's aspirations by claiming: "If there is a call on us to provide further resources or resources in a different way, we will consider that constructively."

Currently, Australia is one of biggest allies of US-led military coalition's fight against the Islamic State along with six other countries: United States, France, Germany, Britain, Italy and the Netherlands. Australia is also among the three countries with largest 'boots on the ground' to combat ISIS in Iraq and Syria.

Australia first decided to begin operation against ISIS threats in Iraq on 31 August 2014 to 'advise and assist' Iraqi security forces. However, Australian airstrikes were extended to Syria by September 2015.

Australia has approximately 780 personnel deployed in the Middle East, specifically as part of Operation Okra, according to the Australian Department of Defence.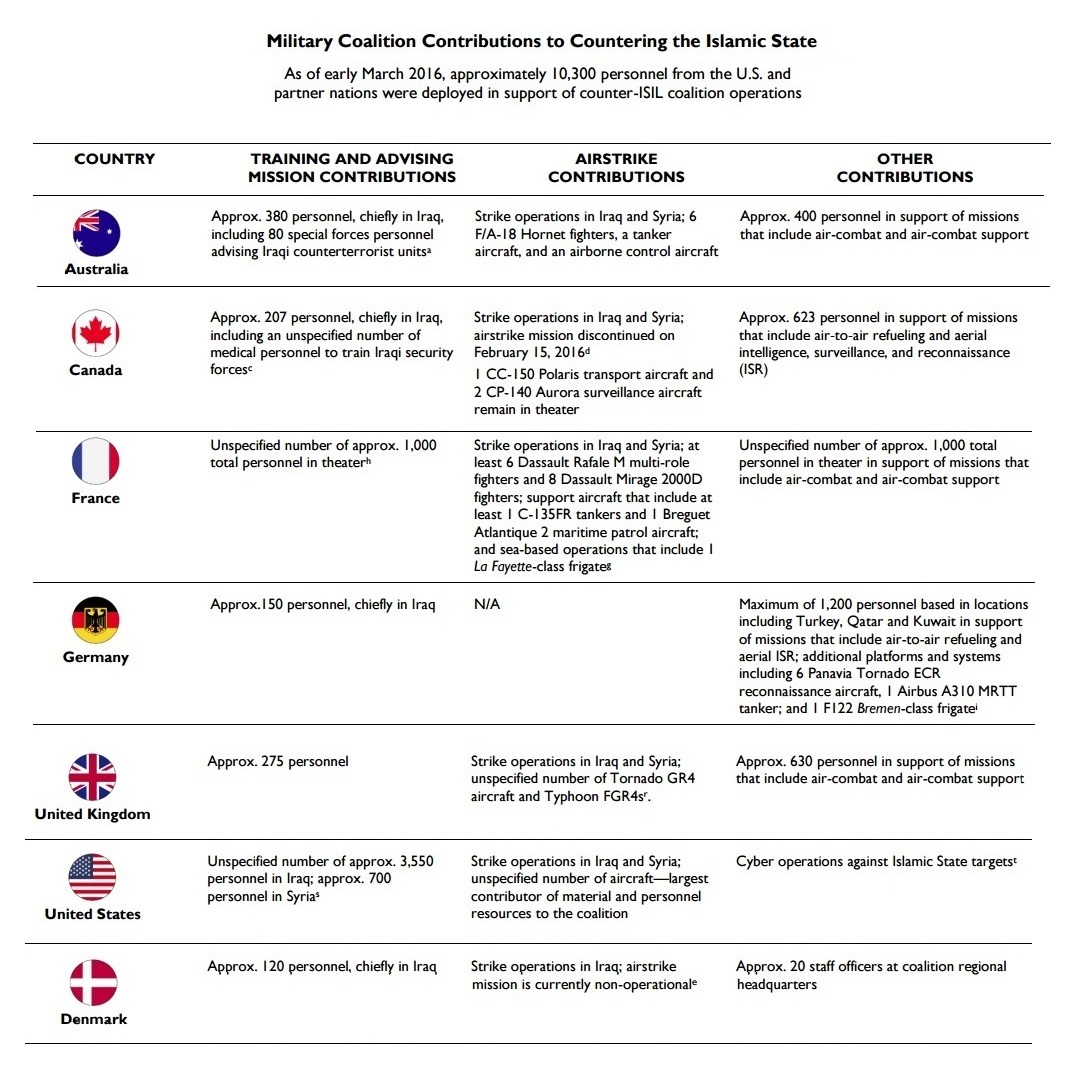 At present Australia continues to make one of the largest contributions to the counter-Daesh campaign, including:

• 300 personnel for Australia's Building Partner Capacity mission at Taji training Iraqi Army personnel;
• 80 personnel Special Operations Task Group to offer advice and support to the Iraqi Counter-Terrorism Service;
• 400 personnel to our Air Task Group to conduct airstrikes against Daesh in Iraq and Syria, and provide airborne command and control and refueling capabilities.

Australia's contribution to the training mission in Iraq of 380 personnel is the third largest after the US and France.


Australia's Army components in Iraq and Syria

Special Operations Task Group (SOTG)
Australia's Special Operations Task Group is offering military advice and assistance to the Counter-Terrorism Service of the Iraqi Security Forces. By October 2014, Australia had already deployed 200 Special Forces advisers to Iraq to advise and assist local forces on the ground before the government's National Security Committee and the Cabinet approved the air combat operations. In April 2016, it was disclosed that SOTG personnel are assisting at the "divisional level" embedded with senior Iraqi and Kurdish Peshmerga commanders.

Task Group Taji
Task Group Taji (TG Taji) is a joint Australian-New Zealand military training force located at the Taji Military Complex in northwest of Baghdad. The Group comprises around 300 Australians and 100 New Zealanders, and commanded by Colonel Andrew Lowe of the Australian Army. TG Taji group's main objective is to support international Joint Task Force (Operation Inherent Resolve) to train and build the capacity of the regular Iraqi Security Forces (ISF). The mission became fully operational in May 2015 and is expected to last until November 2018. In July 2016, the training mission was extended to train Iraqi police force.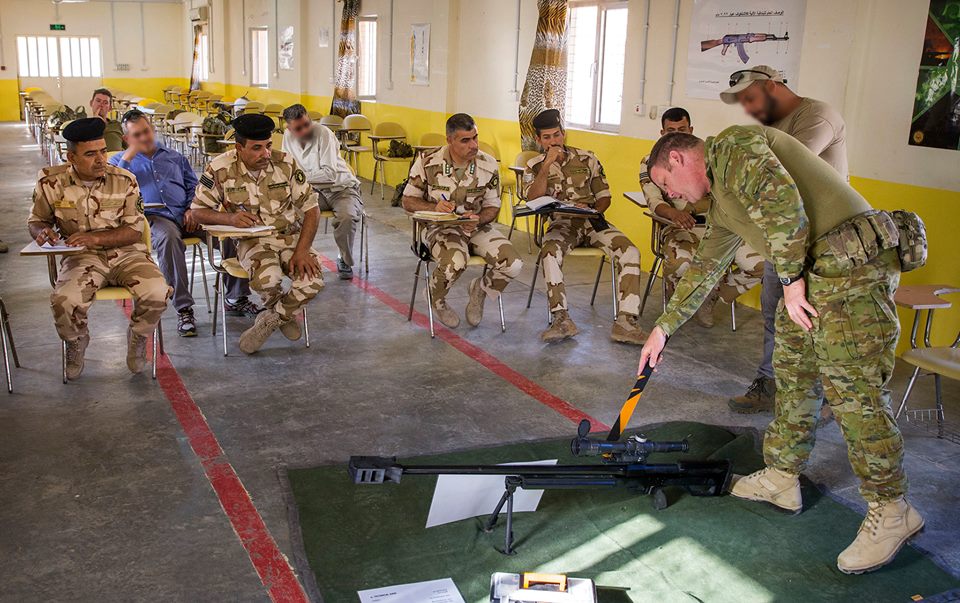 Australian Army soldier Corporal Ross Ockenfels briefs Iraqi Army soldiers on a variant of the Steyr HS .50 rifle during an advanced marksmanship training package at the Baghdad Fighting School, part of the Taji Military Training.


Australia Airstrikes in Iraq and Syria
Australia is among the selected countries currently conducting air strikes against ISIS in both Iraq and Syria. Australian aircraft commenced its armed air combat operations and carried out their first airstrike on 8 October 2014 against an ISIS facility in Iraq.

Australia's Air Task Group (ATG) is conducting air combat and support operations in Iraq and Syria, operating within a US-led international coalition with the endorsement of the Iraqi Government.

The ATG includes six Royal Australian Air Force F/A-18 Hornets, an E-7A Wedgetail Airborne Early Warning and Control (AEW&C) aircraft and a KC-30A Multi Role Tanker Transport (MRTT). These aircraft have to date conducted a total of 2328 sorties and released 1254 munitions in the conflict.


Australia's recent developments in Iraq and Syria
Australia's contributions in war on ISIS had achieved a significant military progress for the coalition ground and air campaign in Iraq and Syria.

To further commit its role and contribution Australia's Minister for Defence, Senator Marise Payne paid an official visit to Iraq in mid-August 2016 accompanied by Australia's Chief of Joint Operations Vice Admiral David Johnston AM, RAN and Commander Joint Task Force 633 Air Vice-Marshal Tim Innes, CSC. During her brief visit Minister Payne held series meetings with members of Australia's Special Operations Task Group and ADF personnel from Task Group Taji.

During her visit to Iraq in August 2016, Defence Minister Payne also discussed Building Partner Capacity mission with Iraqi Prime Minister Dr Haider al-Abadi and Defence Minister Khalid al-Obeidi, to include Iraqi law enforcement agencies and coordinate a joint effort to crush Daesh in the region.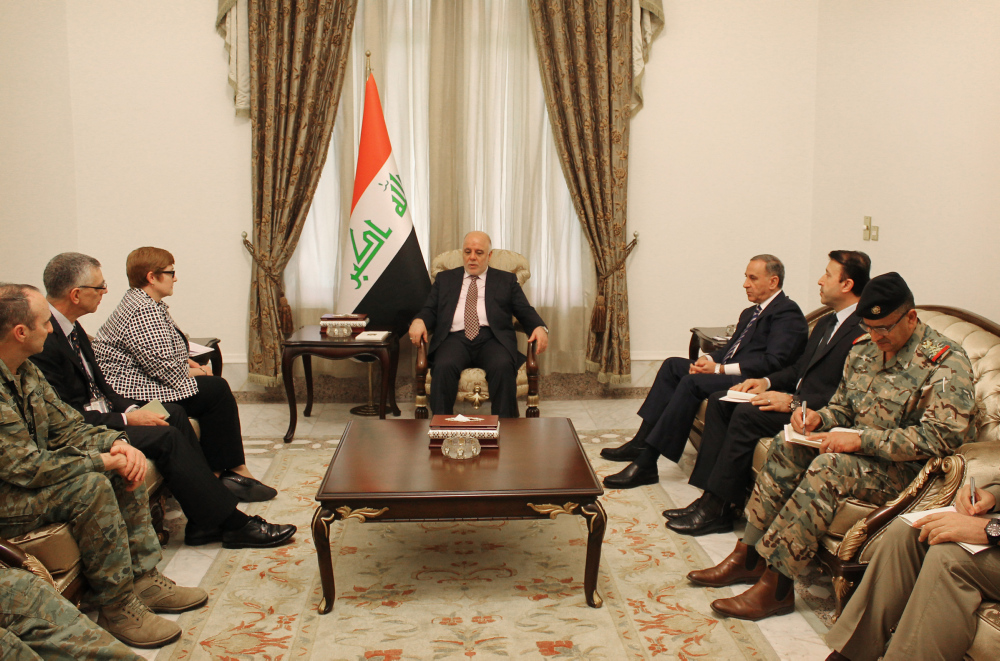 Australia's Minister for Defence Marise Payne meets Iraqi Prime Minister Mr Haider al-Abadi (centre) and Defence Minister Mr Khaled al-Obeidi (to his left) during a visit to Baghdad in August 2016.

Minister Payne also held meetings with the chief of the international coalition, Operation Inherent Resolve Commander Lieutenant General Sean MacFarland, to discuss the future steps in the coalition's campaign to assist the Iraqi Security Forces in their battle against Daesh.

"With coalition support the capacity of the Iraqi Security Forces has improved markedly and they have now driven Daesh out of more than 40 per cent of the territory they once held in Iraq" she was quoted as saying during her stay in Iraq.

By July 2016, Australia announced to expand its mission in Iraq to help-train local paramilitary police as well as the army. Prime Minister Malcolm Turnbull declared the new role following a request from the United States and Iraq for additional help following his talks with US Vice-President Joe Biden in Sydney.

Training for Iraqi forces will extend to Iraqi law enforcement agencies, including the Iraqi Federal and Local Police and border guard forces. The police training will be performed by the 300 Australian Defence Force soldiers who are currently training local forces at Camp Taji. The training includes weapons handling, combat first aid, building clearances and obstacle breaching techniques, as well as instruction in the tactics, techniques and procedures for section through to company-level operations in the fight against ISIS.

Australian Government has now authorised the deployment of an additional 15 ADF personnel who will provide a counter rocket, artillery and mortar (C-RAM) capability at Taji which is currently being provided by another coalition member.


Australian strategy to counter terrorism in Iraq and Syria
In September 2015, Australia launched a three-pronged strategy:
1. Royal Australian Air Force fighter-bombers launch airstrikes in Syria;
2. Allocation of AU $44 million in humanitarian aid to support agencies such as the UNHCR;
3. Decision to increase refugee intake from 13,750 to 25,750.

This strategy indicates Australia is also focusing on the humanitarian cause along with the military mission to defeat ISIS.

Australian former Prime Minister Tony Abbott also made clear at the time that the Australia's military's role in Syria was not to "build a liberal pluralist market democracy overnight in the Middle East", or topple the dictator Bashar al-Assad.

The Australian government justified that the legal basis for such operation comes under Article 51 of the UN charter which recognised all member states have an inherent right of individual and collective self-defence against armed attack.

The Australia's decision was seen as firmly in Australia's national interest reflecting the Government's "steadfast commitment to keeping Australians safe from terrorism, preventing the spread of violent extremism to our shores and responding to a deepening humanitarian crisis."

Australia's steady commitment to combat terrorism in Middle East divulged at the very time of its deployment of troops in Iraq and Syria. The then Australian Prime Minister Tony Abbott warned "this deployment in Iraq could be quite lengthy", when he announced cabinet approval for airstrikes against ISIS in Iraq on 3 October 2014. He added "certainly months rather than weeks. I want to reassure the Australian people that it will be as long as it needs to be but as short as it possibly can be."

Former Prime Minister Tony Abbott maintained that the measure of success would be "when ISIS [militants] are in retreat, not in advance. We will know that we are succeeding when the Iraqi government is restoring a modicum of control over its own cities and towns." The subsequent developments proved that by the mid of 2016, the ISIS was not only on the retreat but its fighters began fleeing Iraq and Syria.

The liberation of Syrian city of Manbij from ISIS by Syrian Democratic Forces (SDF), in which allegedly 4,000 militants of the Islamic State (ISIS) have been killed, was hailed as a huge victory for all coalition forces as it cuts off Daesh's last supply routes from the outside world, and prevents fighters to infiltrate into Europe. This victory is the latest in a number of successes against ISIS group which has lost over a quarter of their controlled territory over the past 18-months.

Australia's latest initiative to train Iraqi police proves that country's military involvement in Iraq is also aimed at supporting Iraqi government and its forces to take full and effective responsibility for their own security once the region has been cleared off terrorists.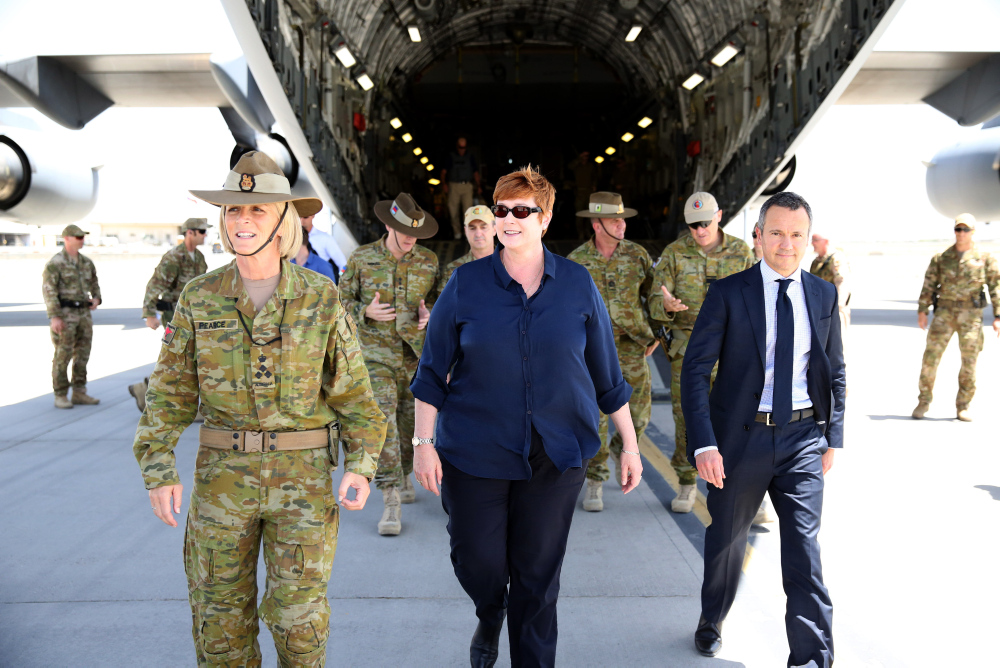 Australia's Minister for Defence, Senator the Hon Marise Payne, MP (centre) is greeted and escorted off the Royal Australian Air Force C-17 Globemaster at Hamid Karzai International Airport by (left) Brigadier Cheryl Pearce, Commander Task Group Afghanistan and (right) the Ambassador to Afghanistan Mr Richard Feakes.

Prime Minister Malcolm Turnbull summed up Australia's strategy against ISIS in the Middle East in his speech on December 3, 2015 when he said: "The battle against violent extremism, against terrorism, is one that all nations are now engaged in….and the single most important objective in the battle against the violent extremism as practised by Daesh, or ISIL, is to defeat them in the field in Syria and Iraq."

At the same time, Australia is concerned about reducing the risk of violent extremism at home by taking early measures and tackling the root of the problem to enhance the safety of all Australians which is why the island continent has tripled investment in Countering Violent Extremism programs over the past four years to more than AU$40 million.

In the same December 2015 speech, Prime Minister Malcolm Turnbull retained that "closer to home, our security is in very good hands and our police and our security agencies are the best in the world". However, comparing with the challenges faced by France lately, the Australian Prime Minister maintained that "We have a much stronger foundation upon which our security is built, but we have to maintain it."